Dark Movement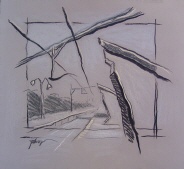 Dark movement:
The bitterness of a fruity walk
The speed of the night.

Shall we fill the bridge?
Gapping through air
We are wheel of energy.

Beware of our naughty talks.
The front door is above
As the sky above the sea.

She is the tuff wind
Silent in the view of my sight
Sneezing as a bird on the gloves.

She is beside me as a turning wheel
As we float away from the bitterness.
There are limits to what we can see

There are no limits to what life can mean.
Stop the light of the deep blue
Breakfast is a sign of hope.


____________________________________________________
Schilderij: Rudolf Boogerman (Raboo) uit de Lost Corners-serie.